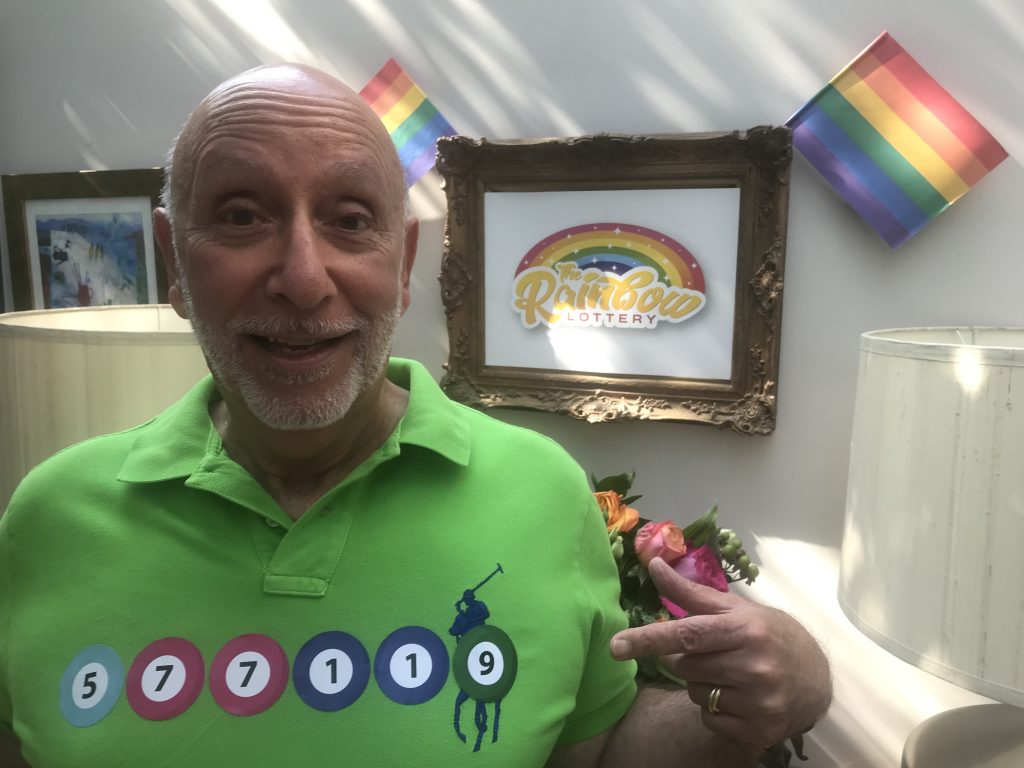 NOW ANNOUNCING THE WINNING NUMBERS LIVE ONLINE
21 July 2021
The UK's biggest and most colourful lotto, The Rainbow Lottery, which supports vital LGBTQ+ good causes, has started announcing their weekly winning numbers LIVE every Saturday night at 8pm on CANAL ST MEDIA's Facebook Live.
Each week, the short 3-minute segments will showcase a different spokesperson from one of the 100 good causes on the Rainbow Lottery's website. The speaker briefly gives an insight into the vital work achieved by the cause they proudly represent and how funds from the Rainbow Lottery will support them to help members of the wider LGBTQ+ community.
The lottery and its prizes are a fabulous way of putting fun into fundraising. While players are able to win up to a very noble £25,000, the real winners are the good causes. From every £1 ticket sold, 60p will go to good causes in the LGBTQ+ community. To put this in perspective, when you play the National Lottery 25% goes to good causes The Rainbow Lottery have more than doubled the ticket percentage that is donated.
Tom Gattos, Co-Founder of the lottery, presents the enjoyable online reveal, topping and tailing the guest speaker, whilst his Co-Founder partner, David Murray, does the behind-the-scenes filming. Quite literally playing his cards close to his chest, Mr. Gattos, reveals the much-anticipated winning numbers at the end of the weekly segment from his torso, which have been playfully stuck there by Mr. Murray as an amusing twist.
Last week saw the first LIVE winning numbers announced on the show, which featured PRIDE OUT, the UK's largest LGBTQ+ cycling group, and their founder, Richard Hearne. This was seen as a 'test' by CANAL STREET MEDIA's Iain Scott, who has since given the thumbs up for the weekly snippets to continue. This week's guest is Darren Knight, CEO of The George House Trust, which supports people living with HIV.
Mr. Gattos says, "In a short time, we provide an informative and entertaining vehicle to reveal the week's winning numbers and get our message across: that the Rainbow Lottery is here to help the LGBTQ+ community deal with the serious issues our 100 causes represent, and have some fun doing it."
Our causes are on track to raise £75,160.80 this year
2,409 tickets of our 7,630 ticket goal
More top stories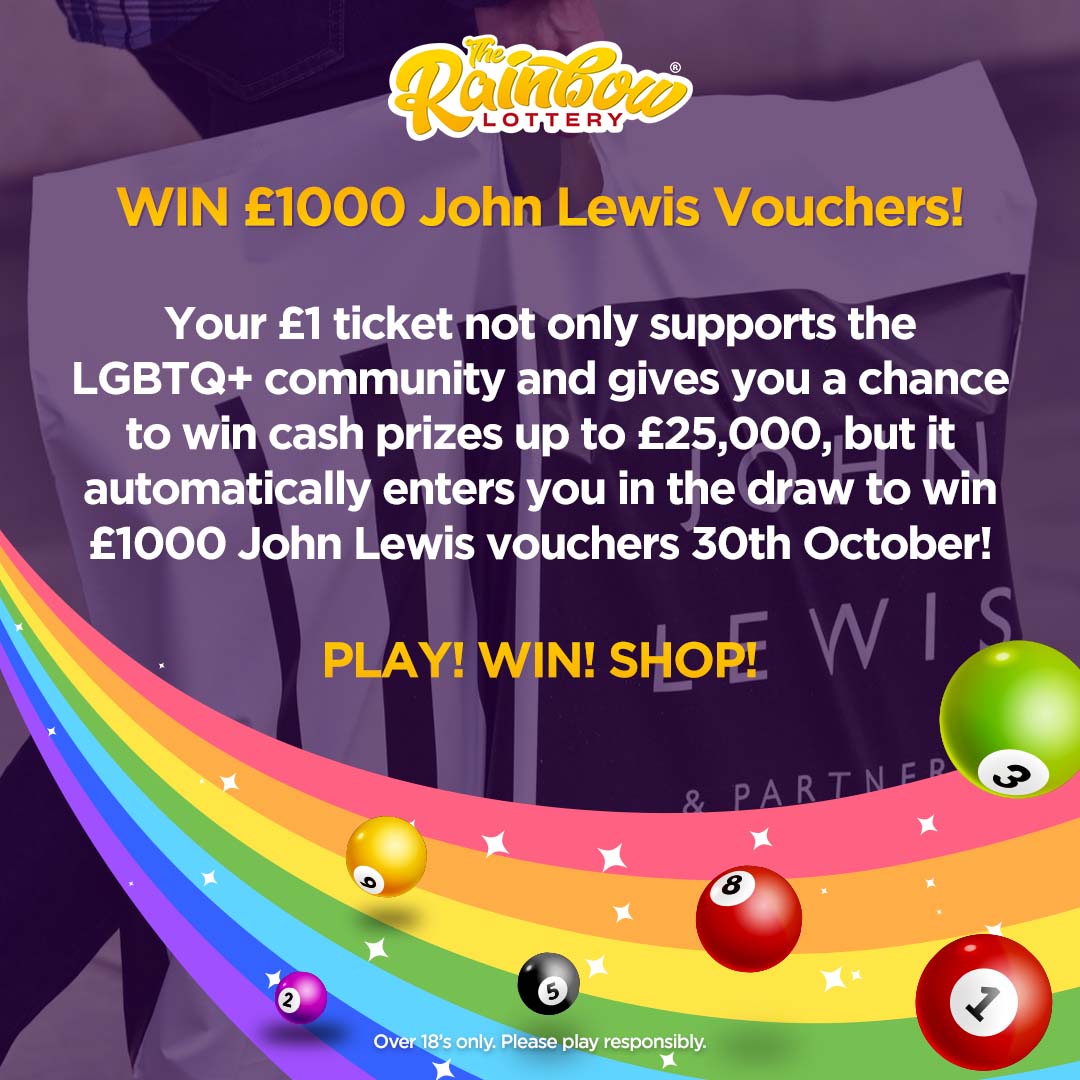 PLAY. WIN. SHOP! WITH A JOHN LEWIS £1,000 VOUCHER!
Sign up and support the LGBTQ+ good cause of your choice today for just £1 per ticket. You will not only be in with a chance of winning weekly cash prizes up to the £25,000 jackpot, but if...
01 September 2021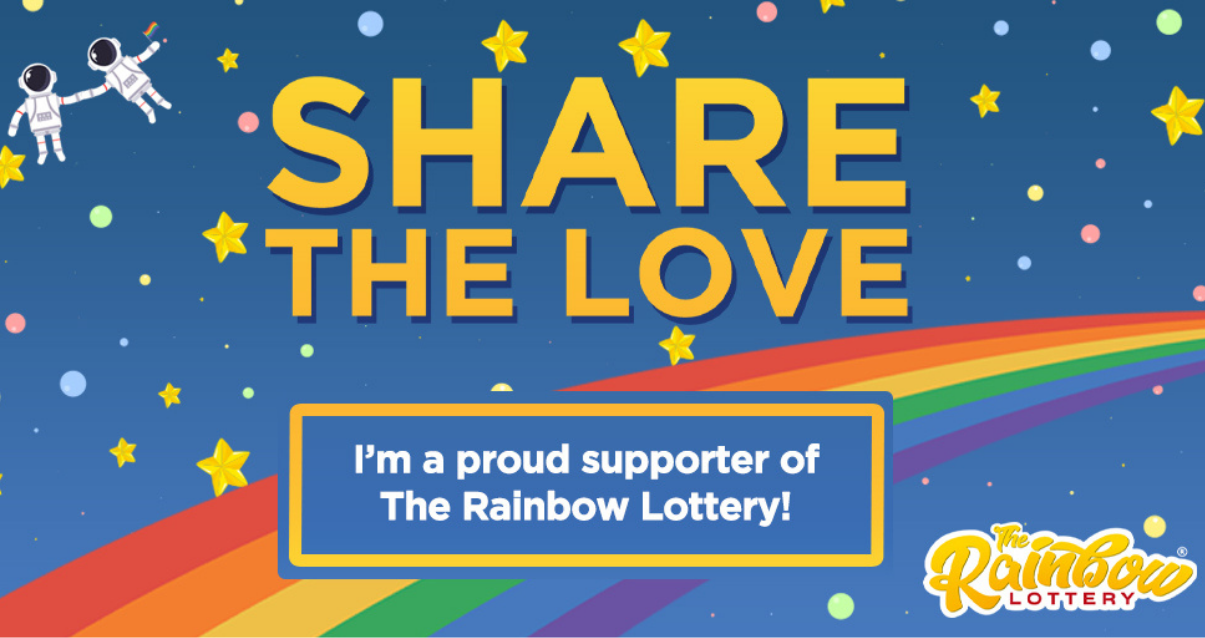 SUPPORTERS OF THE RAINBOW LOTTERY SHARE THE LOVE
As members of the community, we know that being LGBTQ+ isn't just about sexual orientation. It's also about recognising that we're part of an incredible, fabulous, loving global family. One way of ack...
30 July 2021
Back to full list
Our causes are on track to raise £75,160.80 this year
2,409 tickets of our 7,630 ticket goal