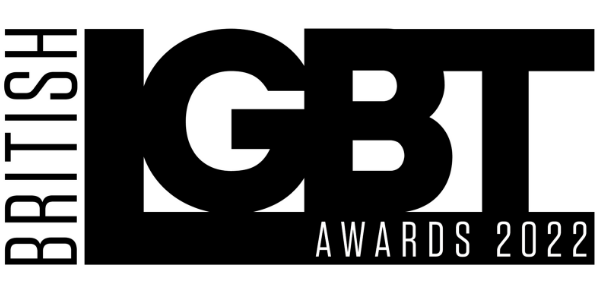 We're Shortlisted In The British LGBT Awards 2022!
09 March 2022
As we're sure some of you have already heard (after all, we haven't exactly been quiet about it!) we're absolutely delighted to announce that we've been SHORTLISTED for this year's super-prestigious British LGBT Awards 2022!
We have been recognised in the "Brand or Marketing Campaign" category alongside some of the biggest names around: Lego, Levis, Sky, and more – we're definitely the David to their Goliath! We're absolutely over the moon, but this award isn't just for us at Rainbow Lottery. We'd be nothing without you - our fabulous loving global family, who we support by helping over 100 wonderful causes raise funds to continue their vital work – and we think we're making a difference.
These gorgeous folks certainly think so, too – just look at all the fantastic things they've been saying about us:
"We're so pleased to be part of the Rainbow Lottery, and I want to take this opportunity to personally thank you for making a difference. Our work providing lifesaving support to LGBT people, absolutely would not be possible without people like you."
Paul Martin, CEO of the LGBT Foundation
"This initiative is so important because it's helping us to improve what we're doing to tackle the lack of diversity and uplift marginalised voices. So thank you to everybody who is buying tickets."
Aisha Shaibu, Founder of Moonlight Experiences
"Your money goes to support our work helping over 2,000 people living with HIV each year. Thank you so much."
Darren Knight, CEO of the George House Trust.
"Being part of the Rainbow Lottery has allowed us to develop our service where we now offer welfare packs to vulnerable people who use our service. We would like to thank everyone who supports our service - especially the Rainbow Lottery."
Justin Hyslop, Dumfries and Galloway LGBT Plus
Our very own Tom Gattos, co-founder of The Rainbow Lottery, said: "I am so chuffed and overjoyed to be shortlisted in our first year – I can hardly sit down! Really, this is beyond anything we could have ever wished for. It's the ultimate thumbs-up from the community for the Rainbow Lottery – the first central arena for all our good causes. It's an astonishing achievement. We're rubbing shoulders with the likes of Lady Gaga and Dua Lipa – it's already a win for all of us in the community!"
So what's all the fuss about? Since we started, over 100 foundations, organisations and trusts across the country have signed up to The Rainbow Lottery, the UK's first lottery exclusively supporting the LGBTQ+ community – and with 60p from every £1 ticket sold going to good causes (20p to prizes, 20p to admin), it's easy to see why! So if you're a good cause supporting the LGBTQ+ community, join our family today:
And don't forget to keep a watchful eye on the British LGBT Awards 2022 on Friday June 24th to celebrate all the wonderful people who support our community!
Want to find an LGBT+ cause to support, and play the lottery for a chance to win weekly prizes of up to £25,000? Of course you do!
Our causes are on track to raise £81,681.60 this year
2,618 tickets of our 8,055 ticket goal
More top stories

Rubbing Shoulders With Celebrities
As you know, this June we're going to be rubbing shoulders with the Glitterati at the British LGBT Awards 2022! We've been shortlisted in the "Brand or Marketing Campaign" cate...
09 May 2022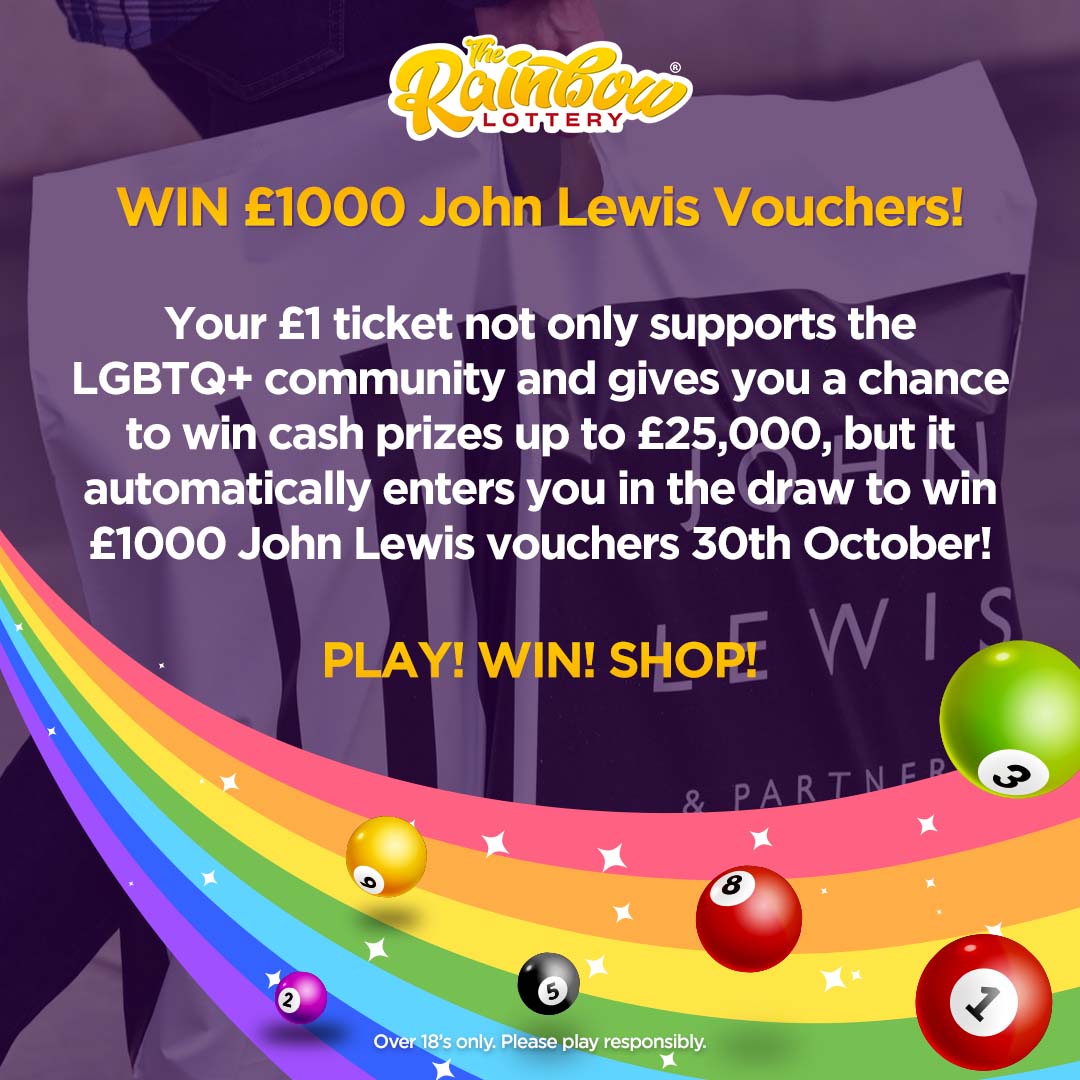 PLAY. WIN. SHOP! WITH A JOHN LEWIS £1,000 VOUCHER!
Sign up and support the LGBTQ+ good cause of your choice today for just £1 per ticket. You will not only be in with a chance of winning weekly cash prizes up to the £25,000 jackpot, but if...
01 September 2021
Back to full list
Our causes are on track to raise £81,681.60 this year
2,618 tickets of our 8,055 ticket goal