Jackson in Aylesbury supported us with 1 ticket

Craig in Milton Keynes supported us with 5 tickets

Julien in Aylesbury supported us with 3 tickets

Derek in Aylesbury supported us with 2 tickets
---
5d 10h 20m

28 May 2022
---
R Thos. Rainbow in LONDON won £250.00

Al in LONDON won £25.00

Someone in BRISTOL won £25.00

Someone in LONDON won £25.00

Peter in RAINHAM won £25.00

ROBERT in SUNDERLAND won £25.00

ben in ST. LEONARDS-ON-SEA won 3 extra tickets

Ryan in STOURBRIDGE won 3 extra tickets

Someone in LONDON won 3 extra tickets

Someone in CAMBRIDGE won 3 extra tickets

Joan in PENZANCE won 3 extra tickets

Katherine Cox in NORWICH won 3 extra tickets

Helen in ROTHERHAM won 3 extra tickets

Joanne in WIGAN won 3 extra tickets

Charlie in WALSALL won 3 extra tickets

Sam in BIRMINGHAM won 3 extra tickets

Ruby in GLASGOW won 3 extra tickets

Felicity in WAKEFIELD won 3 extra tickets

Jo in LONDON won 3 extra tickets

Eve in ALEXANDRIA won 3 extra tickets

Gary in BILSTON won 3 extra tickets

Jen in DUNDEE won 3 extra tickets

Mickey in MANCHESTER won 3 extra tickets

Someone in READING won 3 extra tickets

Someone in ABERDARE won 3 extra tickets

Someone in LONDON won 3 extra tickets

Someone in CAMBRIDGE won 3 extra tickets

Someone in CHELMSFORD won 3 extra tickets

Someone in MANCHESTER won 3 extra tickets

Someone in TORQUAY won 3 extra tickets

Someone in LANCASTER won 3 extra tickets

Someone in ABERDEEN won 3 extra tickets

Someone in SUNDERLAND won 3 extra tickets

Someone in MANCHESTER won 3 extra tickets

James in WALTHAM CROSS won 3 extra tickets

Sean in SHEFFIELD won 3 extra tickets

Richard in LONDON won 3 extra tickets

Stephen in ROMFORD won 3 extra tickets

Jonathan in YORK won 3 extra tickets

Robert in MABLETHORPE won 3 extra tickets

Margaret in NOTTINGHAM won 3 extra tickets

Patrick in LEICESTER won 3 extra tickets

Simon in INVERNESS won 3 extra tickets

Steve in TEWKESBURY won 3 extra tickets

Katie in ROSSENDALE won 3 extra tickets

Tom in LONDON won 3 extra tickets

Stephanie in TUNBRIDGE WELLS won 3 extra tickets

Someone in MANCHESTER won 3 extra tickets

Emz in TY CROES won 3 extra tickets

Someone in PRINCES RISBOROUGH won 3 extra tickets
About us
We provide essential and much-valued services, to Buckinghamshire's LGBTQ+ community, their families, friends and allies, in addition to supporting and mentoring numerous other LGBT+ organisations, both locally and nationally.
Our Designated LGBT+ Safe Spaces and supportive environment allow members to safely and comfortably relax, be themselves and, most importantly, do so without fear of any kind of predatory or unwelcoming behaviours.
We currently engage directly, face-to-face, at two regular local social events:
Monthly LGBT+ Coffee Posse
The Hop Pole Craft Beer & Grill
83 Bicester Road
Aylesbury
Buckinghamshire
HP19 9AZ
Every 2nd and 4th Saturday of Each Month
2:30 pm and 4:30 pm
Weekly LGBT+ Friends and Families Hub
Walton Court Community Centre
Unit 11, Hannon Road
Aylesbury
Buckinghamshire
HP21 8TJ
Every Thursday Evening
6:00 pm and 8:00 pm
More information:
[email protected]
https://aylesburyvalelgbt.co.uk/events
https://www.facebook.com/AylesburyValeLGBT
We are also currently extremely honoured to be involved with the planning and organisation, in association with Pride in Aylesbury CIC, hosting:
Pride in the Park 2022
Vale Park, Park Street, Aylesbury, HP20 1DX
Coming to Aylesbury
August Bank Holiday Monday
29th August 2022
- Part of Parklife Weekend 2022 -
In Association with:
Aylesbury Town Council
Crowdfunding Page:
https://www.crowdfunder.co.uk/p/pride-in-aylesbury?experiment=a
More information:[email protected]https://prideinaylesbury.org/
https://www.facebook.com/prideinaylesbury
As with many other smaller Community Organisations, we are constantly competing against larger charities, for funding, so appreciate every bit we receive to make the lives of our local LGBT+ community, their families, friends and allies safer, supportive and more welcoming.
With the above in mind, we need your help so we can continue to offer and even expand our services!
Thank you for your support and good luck!
FOR AND ON BEHALF OF THE MANAGEMENT TEAM
Aylesbury Vale LGBT Social Group
Help us share our cause on social media
How the lottery works
That's right, unlike many other lotteries, our lottery tickets are only £1 per week.
50% to your chosen cause and 10% to other causes in the LGBTQ+ community.
Match all 6 numbers and you win the JACKPOT!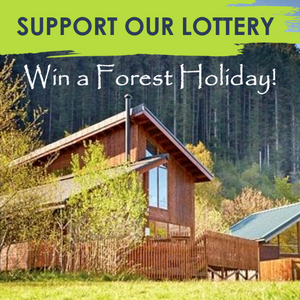 Win A £1000 Forest Holiday
Ever want to get away from it all? Well here's your chance - get your tickets before 25th June for your chance to win a fabulous Forest Holiday to the value of £1000! Choose from 12 different locations throughout the UK.