Darren in Redditch supported us with 2 tickets

Kathryn in Cannock supported us with 3 tickets

Someone in Havant supported us with 3 tickets
---
3d 15h 29m

29 January 2022
---
Daniel in LONDON won £25.00

Carole in POOLE won £25.00

Someone in BELFAST won £25.00

Barnabas-Francis in PAISLEY won £25.00

joanna cox-green in NORWICH won £25.00

Emma in TELFORD won 3 extra tickets

Someone in ALTRINCHAM won 3 extra tickets

Someone in LONDON won 3 extra tickets

Someone in Brighton won 3 extra tickets

Sophie in CALNE won 3 extra tickets

Mark in LONDON won 3 extra tickets

Julia in NOTTINGHAM won 3 extra tickets

Charles in LONDON won 3 extra tickets

Lucy in IPSWICH won 3 extra tickets

Jakki in TIVERTON won 3 extra tickets

Christian in EXETER won 3 extra tickets

Christian in EXETER won 3 extra tickets

Matthew in MIDDLESBROUGH won 3 extra tickets

Dougherty in MANCHESTER won 3 extra tickets

Michael in LONDON won 3 extra tickets

Grace in ST. LEONARDS-ON-SEA won 3 extra tickets

Martin in LONDON won 3 extra tickets

Someone in LONDON won 3 extra tickets

Anthony in MANCHESTER won 3 extra tickets

Alex in EXETER won 3 extra tickets

Someone in LONDON won 3 extra tickets

Someone in CASTLE CARY won 3 extra tickets

Someone in EDINBURGH won 3 extra tickets

Someone in LONDON won 3 extra tickets

Someone in RYDE won 3 extra tickets

Steve in SOUTHEND-ON-SEA won 3 extra tickets

Someone in IPSWICH won 3 extra tickets

Someone in IPSWICH won 3 extra tickets

Someone in LONDON won 3 extra tickets

Paul in BRIGHTON won 3 extra tickets

David in BROADSTONE won 3 extra tickets

Someone in SOUTHAM won 3 extra tickets

Rebecca in ST. IVES won 3 extra tickets

Someone in AYR won 3 extra tickets

Someone in NOTTINGHAM won 3 extra tickets

Someone in READING won 3 extra tickets

Someone in SUDBURY won 3 extra tickets

Someone in IPSWICH won 3 extra tickets

Michael in TRURO won 3 extra tickets

Tracy in KNEBWORTH won 3 extra tickets

Sarah in BRIGHTON won 3 extra tickets

John-Paul in SWINDON won 3 extra tickets

Someone in WELLING won 3 extra tickets

PAULA in MANCHESTER won 3 extra tickets

Richard in PURLEY won 3 extra tickets

Simon in DIDCOT won 3 extra tickets

John in DUNFERMLINE won 3 extra tickets

Naomi in PORTSMOUTH won 3 extra tickets

Naomi in PORTSMOUTH won 3 extra tickets

Helen in MARKET RASEN won 3 extra tickets

Katherine in STOURBRIDGE won 3 extra tickets

Alexis in ORKNEY won 3 extra tickets

Julian in LLANFYLLIN won 3 extra tickets

John in TODMORDEN won 3 extra tickets

Someone in MANCHESTER won 3 extra tickets

Someone in HEANOR won 3 extra tickets

Thain-Michel in LONDON won 3 extra tickets
About us
Gorgeous FM, a not-for-profit inclusive radio station, launched on 28th September 2020.
It's ethos is to support the LGBTQ+ communities across Birmingham, The Black Country, and Shropshire, to reach members of the LGBTQ+ communities who have been adversely affected by coronavirus and lockdowns whether directly or indirectly, and to provide a source of information and 'company' to those unable to temporarily meet with others due to restrictions.
The project will give a voice to members of the LGBTQ+ community and allies who otherwise would not have such a broadcast facility. It brings together all aspects of community life and involves Lesbian, Gay, Bi, Trans, Non-Binary, BAME, Straight, and Questioning broadcasters. From young to old Gorgeous FM speaks to, and gives a voice to, all. Gorgeous FM already boasts an eclectic voluntary staff of over 30 and broadcasts 24 hours a day.
Since the launch on 28th September, there has been a huge amount of positive feedback from LGBTQ+ people and community groups across the broadcast area.
Playlists consist of music from many genres ranging from current pop and chart to dance, soul, urban, Rn'B, Bhangra, and musicals.
All but 3 volunteers are new to radio and broadcasting and have received training in electronic equipment usage and broadcast standards. It is gratifying to see self-confidence growing as familiarity develops.
Unlike commercial broadcasters Gorgeous FM enhances its news output with daily LGBTQ+ bulletins produced and delivered for the station.
We need your help so we can continue to offer and even expand our service!
Thank you for your support and good luck!
Yours sincerely,
Ricki Wellman
Station Director
Help us share our cause on social media
How the lottery works
That's right, unlike many other lotteries, our lottery tickets are only £1 per week.
50% to your chosen cause and 10% to other causes in the LGBTQ+ community.
Match all 6 numbers and you win the JACKPOT!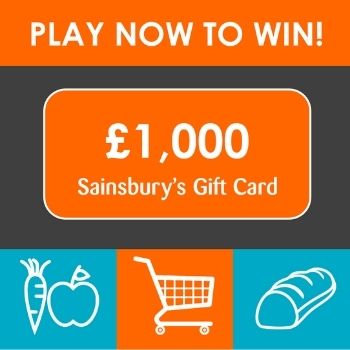 Win A £1,000 Sainsbury's Gift Voucher To Kick Off The New Year!
To kick off 2022, we're giving you the amazing chance to win a £1,000 Sainsbury's Gift Voucher! From Tu clothing and Habitat homewares to groceries, there's something for everyone.
Support your favourite cause, and have a chance to win this fantastic prize - it really is a win-win situation!