Someone in Manchester supported us with 1 ticket

patrick in Manchester supported us with 2 tickets

Mickey in Manchester supported us with 3 tickets
---
1d 3h 49m

20 August 2022
---
Someone in DUNS won £250.00

Someone in GLASGOW won £250.00

Michelle in ABERDEEN won £25.00

Kim in LONDON won £25.00

Glenn in LONDON won £25.00

Rachel in HEBDEN BRIDGE won £25.00

Shelly in ELGIN won £25.00

Ren in NEWTOWNABBEY won 3 extra tickets

Jen in DUNDEE won 3 extra tickets

Someone in SHEFFIELD won 3 extra tickets

Someone in BRIGHTON won 3 extra tickets

Someone in LONDON won 3 extra tickets

Someone in ST. NEOTS won 3 extra tickets

Someone in LYTHAM ST. ANNES won 3 extra tickets

Stewart in FERNDALE won 3 extra tickets

David in CREWE won 3 extra tickets

Matt in BURY won 3 extra tickets

Someone in BOLDON COLLIERY won 3 extra tickets

Paul in BEDLINGTON won 3 extra tickets

Scott in CORBY won 3 extra tickets

Damian in SHEFFIELD won 3 extra tickets

Alan in LONDON won 3 extra tickets

Billy in LONDON won 3 extra tickets

Someone in MANCHESTER won 3 extra tickets

Carl in LONDON won 3 extra tickets

Someone in STOCKPORT won 3 extra tickets

Someone in NOTTINGHAM won 3 extra tickets

Someone in GILLINGHAM won 3 extra tickets

Chris in LONDON won 3 extra tickets

Gem in BRISTOL won 3 extra tickets

Anthony in LONDON won 3 extra tickets

Gareth in STOKE-ON-TRENT won 3 extra tickets

Samuel in CANTERBURY won 3 extra tickets

Someone in SHEFFIELD won 3 extra tickets

Theo in WOODFORD GREEN won 3 extra tickets

Lee in LONDON won 3 extra tickets

Ronan in LONDON won 3 extra tickets

Elizabeth in NEWPORT won 3 extra tickets

Elizabeth in NEWPORT won 3 extra tickets

Alan in GREAT YARMOUTH won 3 extra tickets

Jakki in TIVERTON won 3 extra tickets

Someone in GLASGOW won 3 extra tickets

Musa in WANTAGE won 3 extra tickets

Someone in BRACKNELL won 3 extra tickets

Someone in THATCHAM won 3 extra tickets

Someone in LANGBANK won 3 extra tickets

Someone in THATCHAM won 3 extra tickets

Someone in MANCHESTER won 3 extra tickets

Katelyn in LONDON won 3 extra tickets

Tobias in BOURNEMOUTH won 3 extra tickets
About us
Icebreakers is a mutual support group and we have been providing support to gay and bi men in the Greater Manchester and surrounding areas, who are in the process of coming out, or who are new to the area, those suffering from social isolation, anxiety or looking to make new friends. We are staffed entirely by unpaid volunteers and have been operating since 1986. We have helped thousands of service users during this time.
We need your help so we can continue to offer our service which remains just as relevant today!
Thank you for your support and good luck!
Yours sincerely,
The Icebreaker Volunteer Team.
Help us share our cause on social media
How the lottery works
That's right, unlike many other lotteries, our lottery tickets are only £1 per week.
50% to your chosen cause and 10% to other causes in the LGBTQ+ community.
Match all 6 numbers and you win the JACKPOT!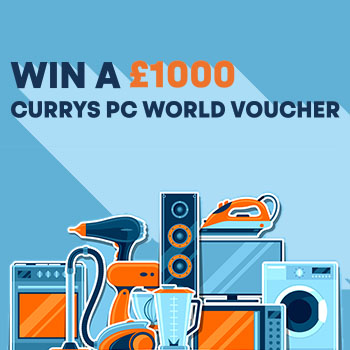 Win a £1,000 Currys eGift Card
Need an upgrade? Get your tickets before 27th August for your chance to win an amazing £1,000 Currys eGift card! From kitchen appliances to TVs, and laptops to iPhones, there's something for everyone!