Jonathan in Southport supported us with 1 ticket

Timothy in Leeds supported us with 1 ticket

Someone in Ryde supported us with 5 tickets

David in Oldbury supported us with 1 ticket

John in Telford supported us with 1 ticket

Someone in Chelmsford supported us with 5 tickets
---
3d 15h 29m

29 January 2022
---
Daniel in LONDON won £25.00

Carole in POOLE won £25.00

Someone in BELFAST won £25.00

Barnabas-Francis in PAISLEY won £25.00

joanna cox-green in NORWICH won £25.00

Emma in TELFORD won 3 extra tickets

Someone in ALTRINCHAM won 3 extra tickets

Someone in LONDON won 3 extra tickets

Someone in Brighton won 3 extra tickets

Sophie in CALNE won 3 extra tickets

Mark in LONDON won 3 extra tickets

Julia in NOTTINGHAM won 3 extra tickets

Charles in LONDON won 3 extra tickets

Lucy in IPSWICH won 3 extra tickets

Jakki in TIVERTON won 3 extra tickets

Christian in EXETER won 3 extra tickets

Christian in EXETER won 3 extra tickets

Matthew in MIDDLESBROUGH won 3 extra tickets

Dougherty in MANCHESTER won 3 extra tickets

Michael in LONDON won 3 extra tickets

Grace in ST. LEONARDS-ON-SEA won 3 extra tickets

Martin in LONDON won 3 extra tickets

Someone in LONDON won 3 extra tickets

Anthony in MANCHESTER won 3 extra tickets

Alex in EXETER won 3 extra tickets

Someone in LONDON won 3 extra tickets

Someone in CASTLE CARY won 3 extra tickets

Someone in EDINBURGH won 3 extra tickets

Someone in LONDON won 3 extra tickets

Someone in RYDE won 3 extra tickets

Steve in SOUTHEND-ON-SEA won 3 extra tickets

Someone in IPSWICH won 3 extra tickets

Someone in IPSWICH won 3 extra tickets

Someone in LONDON won 3 extra tickets

Paul in BRIGHTON won 3 extra tickets

David in BROADSTONE won 3 extra tickets

Someone in SOUTHAM won 3 extra tickets

Rebecca in ST. IVES won 3 extra tickets

Someone in AYR won 3 extra tickets

Someone in NOTTINGHAM won 3 extra tickets

Someone in READING won 3 extra tickets

Someone in SUDBURY won 3 extra tickets

Someone in IPSWICH won 3 extra tickets

Michael in TRURO won 3 extra tickets

Tracy in KNEBWORTH won 3 extra tickets

Sarah in BRIGHTON won 3 extra tickets

John-Paul in SWINDON won 3 extra tickets

Someone in WELLING won 3 extra tickets

PAULA in MANCHESTER won 3 extra tickets

Richard in PURLEY won 3 extra tickets

Simon in DIDCOT won 3 extra tickets

John in DUNFERMLINE won 3 extra tickets

Naomi in PORTSMOUTH won 3 extra tickets

Naomi in PORTSMOUTH won 3 extra tickets

Helen in MARKET RASEN won 3 extra tickets

Katherine in STOURBRIDGE won 3 extra tickets

Alexis in ORKNEY won 3 extra tickets

Julian in LLANFYLLIN won 3 extra tickets

John in TODMORDEN won 3 extra tickets

Someone in MANCHESTER won 3 extra tickets

Someone in HEANOR won 3 extra tickets

Thain-Michel in LONDON won 3 extra tickets
About us
We believe in a fair and equal society where all lesbian, gay bisexual and trans people can achieve their full potential. Our work started in 1975 and we've been changing the lives of LGBT people ever since.
Over the last five decades, we've provided information, services and support for LGBT people who've had nowhere else to turn. We've been at the forefront of the social and legal changes that mean LGBT people in the UK have more rights than ever before.But our work is as vital and urgent as ever. LGBT people still face persecution, discrimination and stark health inequalities. Through our services we reduce isolation amongst our communities, help people feel more confident and in control of their lives, and enable people to flourish.
We have a very simple motto - we're here if you need us. And that applies to everyone in our beautifully diverse communities. If you're young, we're here for you; if you're older, we're here for you; if you're a person of colour, we're here for you; if you're a man, a woman, or non-binary, we're here for you; lesbian, gay, bi, trans - however you describe yourself - we're here for you. If you need help, if you're struggling, if you need a friendly face or reassuring voice, we are there for you if you need us. We are all family - and at LGBT Foundation, everyone is welcome.

Help us share our cause on social media
How the lottery works
That's right, unlike many other lotteries, our lottery tickets are only £1 per week.
50% to your chosen cause and 10% to other causes in the LGBTQ+ community.
Match all 6 numbers and you win the JACKPOT!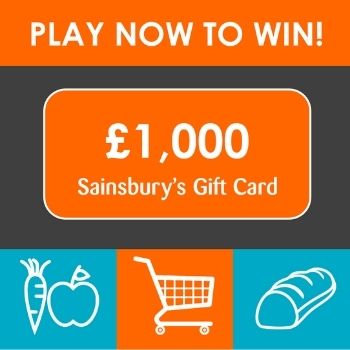 Win A £1,000 Sainsbury's Gift Voucher To Kick Off The New Year!
To kick off 2022, we're giving you the amazing chance to win a £1,000 Sainsbury's Gift Voucher! From Tu clothing and Habitat homewares to groceries, there's something for everyone.
Support your favourite cause, and have a chance to win this fantastic prize - it really is a win-win situation!