Andy in Leicester supported us with 2 tickets

John in Mitcham supported us with 5 tickets

Simon in London supported us with 1 ticket

Nia in London supported us with 1 ticket

Nick in Basildon supported us with 2 tickets

Jordan in Ipswich supported us with 2 tickets
---
2d 1h 53m

02 December 2023
---
Someone in Biggleswade won £250.00

Jack in Grantham won £25.00

Frances in Liverpool won £25.00

Someone in IPSWICH won £25.00

Alison in Elgin won £25.00

Philip in Nottingham won £25.00

David in London won £25.00

Someone in Wakefield won £25.00

Olive in HUNTLY won £25.00

Christine in London won £25.00

Someone in Crewe won £25.00

JOHN in Glasgow won £25.00

Edwin Buckley in MANCHESTER won £25.00

Elizabeth in Brough won £25.00

Someone in SHEPTON MALLET won £25.00

Someone in Nottingham won 3 extra tickets

Andy in London won 3 extra tickets

Jaime Armando in London won 3 extra tickets

Stephen in Salford Manchester won 3 extra tickets

Lee in Wednesbury won 3 extra tickets

David in Dover won 3 extra tickets

Luke in LINCOLN won 3 extra tickets

Logan in Lancaster won 3 extra tickets

Someone in London won 3 extra tickets

Someone in HULL won 3 extra tickets

James Sales in MANCHESTER won 3 extra tickets

Xa in Cambridge won 3 extra tickets

Alex in BRISTOL won 3 extra tickets

Robert in Blackpool won 3 extra tickets

Andrew in Salford won 3 extra tickets

Someone in SALE won 3 extra tickets

Stephanie in LIVERPOOL won 3 extra tickets

Claire in Liverpool won 3 extra tickets

Maria in London won 3 extra tickets

melvin in Uxbridge won 3 extra tickets

Lottie in London won 3 extra tickets

Phil in Southsea won 3 extra tickets

Chloe in SHEFFIELD won 3 extra tickets

Charlotte in Newport won 3 extra tickets

Amy in Holmfirth won 3 extra tickets

Matthew in BRISTOL won 3 extra tickets

Someone in ASHFORD won 3 extra tickets

Stuart in LONDON won 3 extra tickets

Martin in Leeds won 3 extra tickets

Asha in ISLE OF SKYE won 3 extra tickets

Rae in Harrogate won 3 extra tickets

Paul in CAMBORNE won 3 extra tickets

Lewis in London won 3 extra tickets

Erin in Newton Abbot won 3 extra tickets

Gary in NORTHAMPTON won 3 extra tickets

Richard in London won 3 extra tickets

Lewis in MANCHESTER won 3 extra tickets

Isabel in WHITBY won 3 extra tickets

Trefor in Deal won 3 extra tickets

Someone in London won 3 extra tickets

Gerard in Glasgow won 3 extra tickets

Anthony in Redruth won 3 extra tickets

Someone in Cardiff won 3 extra tickets

Dorothy in EDINBURGH won 3 extra tickets

Liz in Scarborough won 3 extra tickets

Kevin in Clitheroe won 3 extra tickets

Brett in Northampton won 3 extra tickets

Theo in WOODFORD GREEN won 3 extra tickets

Lino in London won 3 extra tickets

Nannette in Loughborough won 3 extra tickets

Claire in HOUGHTON LE SPRING won 3 extra tickets

Graham in Derby won 3 extra tickets

Gill in Prescot won 3 extra tickets

Someone in Luton won 3 extra tickets

David in MANCHESTER won 3 extra tickets

Kim in Sheffield won 3 extra tickets

Someone in NOTTINGHAM won 3 extra tickets

Andrew in CHESTERFIELD won 3 extra tickets

Em in Wolverhampton won 3 extra tickets

David in Bracknell won 3 extra tickets

Lee in Cannock won 3 extra tickets

Someone in ABERDEEN won 3 extra tickets

Bekky in Southsea won 3 extra tickets

Someone in BOLTON won 3 extra tickets

anne in Holsworthy won 3 extra tickets

Peter in Uxbridge won 3 extra tickets

Sean in MANCHESTER won 3 extra tickets

Jason in Purley won 3 extra tickets

Kok Leong in London won 3 extra tickets

Alan in Aberdeen won 3 extra tickets

Simon in LONDON won 3 extra tickets

Meg in Edinburgh won 3 extra tickets

Kelly in Blairgowrie won 3 extra tickets

Petra in NOTTINGHAM won 3 extra tickets

Sarah in NEWHAVEN won 3 extra tickets

Someone in Luton won 3 extra tickets

Ben in Gravesend won 3 extra tickets

Paul in Manchester won 3 extra tickets

Louise in Brighton won 3 extra tickets

Catherine in Barnet won 3 extra tickets

charlotte in Sandbach won 3 extra tickets

Matthew in Manchester won 3 extra tickets

Stephen in LONDON won 3 extra tickets

Colette in Folkestone won 3 extra tickets

Someone in Sherborne won 3 extra tickets

Jeremy in Wembley won 3 extra tickets

Sian in Liverpool won 3 extra tickets

Someone in CHEADLE won 3 extra tickets

Steve in Hassocks won 3 extra tickets

Christopher in Stevenage won 3 extra tickets

Jennifer in Scarborough won 3 extra tickets

Someone in SHREWSBURY won 3 extra tickets

Glynn Warren in Plymouth won 3 extra tickets
About us
Mosaic LGBT+ Young Persons' Trust provides vital community services for young LGBT+ persons under 18 and those around them.
We need your help so we can continue to offer and even expand our offer.
Thank you for your support and good luck!
Yours sincerely,
Mr Lukasz Konieczka
Help us share our cause on social media
How the lottery works
That's right, unlike many other lotteries, our lottery tickets are only £1 per week.
50% to your chosen cause and 10% to other causes in the LGBTQ+ community.
Match all 6 numbers and you win the JACKPOT!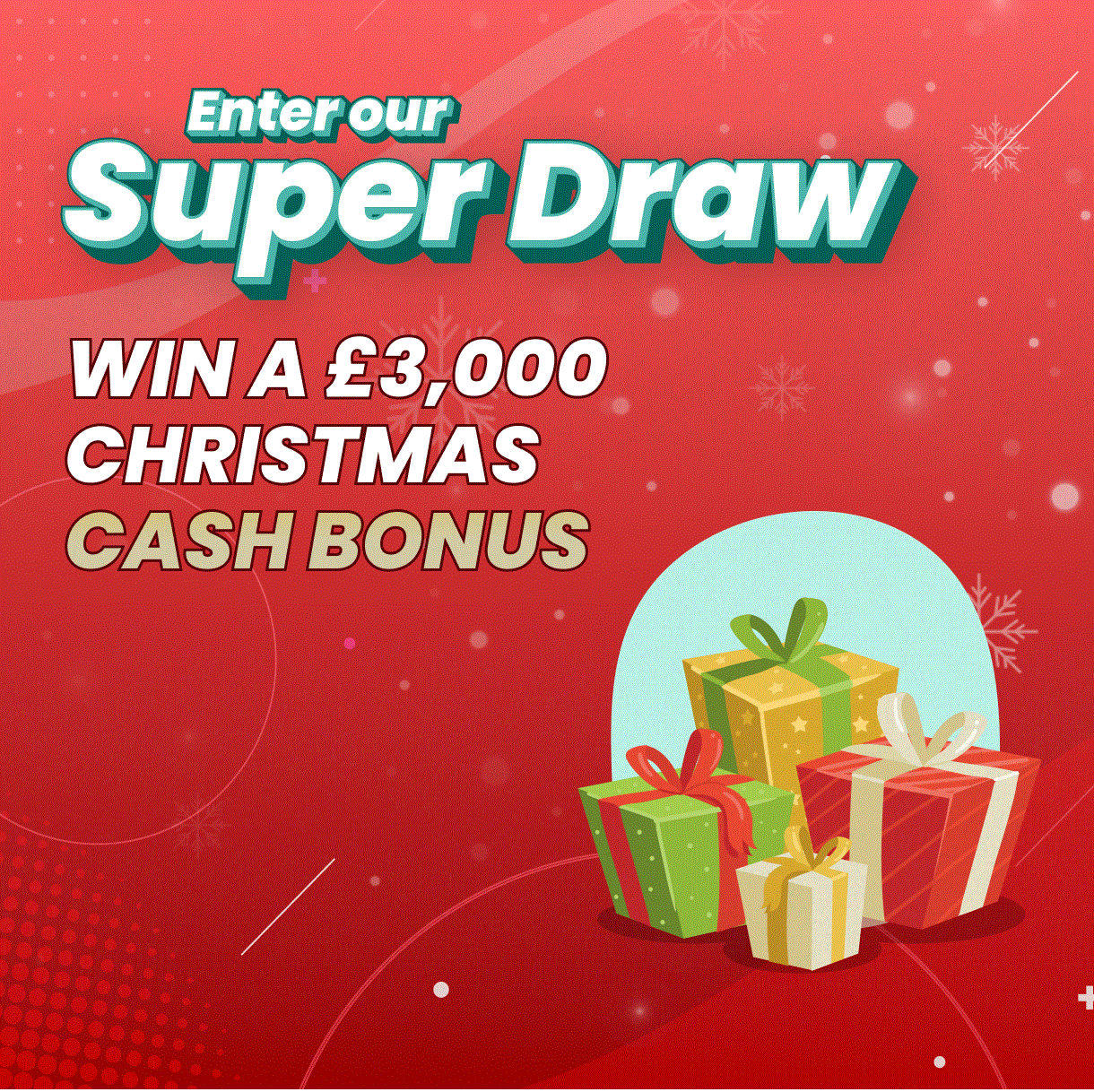 Win a £3,000 Christmas Cash Bonus!
In our festive Super Draw, one lucky person will win an amazing £3,000 Christmas Cash Bonus – you could hit the January sales in style, spread the joy by giving back to a cause that holds a special place in your heart, plan your dream holiday getaway, treat yourself to the latest tech and gadgets, spruce up your living space for the new year; the choice is yours!
Get your Super Draw tickets before Saturday 23rd December to be in with a chance to win!