Someone in Billericay supported us with 2 tickets

Someone in London supported us with 3 tickets

Someone in Stockport supported us with 5 tickets

Someone in Stockport supported us with 3 tickets

Someone in Manchester supported us with 3 tickets

Someone in Hull supported us with 1 ticket
---
3d 15h 39m

29 January 2022
---
Daniel in LONDON won £25.00

Carole in POOLE won £25.00

Someone in BELFAST won £25.00

Barnabas-Francis in PAISLEY won £25.00

joanna cox-green in NORWICH won £25.00

Emma in TELFORD won 3 extra tickets

Someone in ALTRINCHAM won 3 extra tickets

Someone in LONDON won 3 extra tickets

Someone in Brighton won 3 extra tickets

Sophie in CALNE won 3 extra tickets

Mark in LONDON won 3 extra tickets

Julia in NOTTINGHAM won 3 extra tickets

Charles in LONDON won 3 extra tickets

Lucy in IPSWICH won 3 extra tickets

Jakki in TIVERTON won 3 extra tickets

Christian in EXETER won 3 extra tickets

Christian in EXETER won 3 extra tickets

Matthew in MIDDLESBROUGH won 3 extra tickets

Dougherty in MANCHESTER won 3 extra tickets

Michael in LONDON won 3 extra tickets

Grace in ST. LEONARDS-ON-SEA won 3 extra tickets

Martin in LONDON won 3 extra tickets

Someone in LONDON won 3 extra tickets

Anthony in MANCHESTER won 3 extra tickets

Alex in EXETER won 3 extra tickets

Someone in LONDON won 3 extra tickets

Someone in CASTLE CARY won 3 extra tickets

Someone in EDINBURGH won 3 extra tickets

Someone in LONDON won 3 extra tickets

Someone in RYDE won 3 extra tickets

Steve in SOUTHEND-ON-SEA won 3 extra tickets

Someone in IPSWICH won 3 extra tickets

Someone in IPSWICH won 3 extra tickets

Someone in LONDON won 3 extra tickets

Paul in BRIGHTON won 3 extra tickets

David in BROADSTONE won 3 extra tickets

Someone in SOUTHAM won 3 extra tickets

Rebecca in ST. IVES won 3 extra tickets

Someone in AYR won 3 extra tickets

Someone in NOTTINGHAM won 3 extra tickets

Someone in READING won 3 extra tickets

Someone in SUDBURY won 3 extra tickets

Someone in IPSWICH won 3 extra tickets

Michael in TRURO won 3 extra tickets

Tracy in KNEBWORTH won 3 extra tickets

Sarah in BRIGHTON won 3 extra tickets

John-Paul in SWINDON won 3 extra tickets

Someone in WELLING won 3 extra tickets

PAULA in MANCHESTER won 3 extra tickets

Richard in PURLEY won 3 extra tickets

Simon in DIDCOT won 3 extra tickets

John in DUNFERMLINE won 3 extra tickets

Naomi in PORTSMOUTH won 3 extra tickets

Naomi in PORTSMOUTH won 3 extra tickets

Helen in MARKET RASEN won 3 extra tickets

Katherine in STOURBRIDGE won 3 extra tickets

Alexis in ORKNEY won 3 extra tickets

Julian in LLANFYLLIN won 3 extra tickets

John in TODMORDEN won 3 extra tickets

Someone in MANCHESTER won 3 extra tickets

Someone in HEANOR won 3 extra tickets

Thain-Michel in LONDON won 3 extra tickets
About us
As a diverse and friendly LGBTQ+ cycling group, PRiDE OUT's goal is to transform the lives of LGBTQIA+ people through social exercise in a relaxed, inclusive environment and safe space.

With your help, we can life-changing raise funds to travel and train many new ride captiains and host more group cycling rides across the whole UK.
You also get the chance to win up to £25,000. It's a win-win.

Thank you for your support and good luck! Don't forget to play responsibly.

Richard Hearne (he/him)
Chairperson
PRiDE OUT

Web: www.prideout.co.uk
Email: [email protected]
Help us share our cause on social media
How the lottery works
That's right, unlike many other lotteries, our lottery tickets are only £1 per week.
50% to your chosen cause and 10% to other causes in the LGBTQ+ community.
Match all 6 numbers and you win the JACKPOT!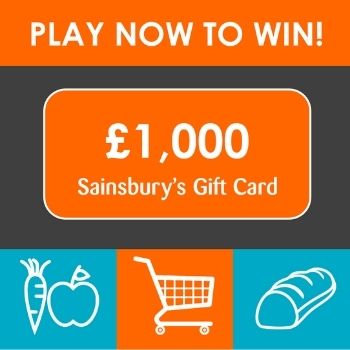 Win A £1,000 Sainsbury's Gift Voucher To Kick Off The New Year!
To kick off 2022, we're giving you the amazing chance to win a £1,000 Sainsbury's Gift Voucher! From Tu clothing and Habitat homewares to groceries, there's something for everyone.
Support your favourite cause, and have a chance to win this fantastic prize - it really is a win-win situation!