Someone in London supported us with 5 tickets

Claire in Shrewsbury supported us with 1 ticket

Claire in Houghton Le Spring supported us with 2 tickets

Ren in Telford supported us with 1 ticket

Someone in Billericay supported us with 2 tickets

Someone in London supported us with 3 tickets
---
1d 5h 44m

20 August 2022
---
Someone in DUNS won £250.00

Someone in GLASGOW won £250.00

Michelle in ABERDEEN won £25.00

Kim in LONDON won £25.00

Glenn in LONDON won £25.00

Rachel in HEBDEN BRIDGE won £25.00

Shelly in ELGIN won £25.00

Ren in NEWTOWNABBEY won 3 extra tickets

Jen in DUNDEE won 3 extra tickets

Someone in SHEFFIELD won 3 extra tickets

Someone in BRIGHTON won 3 extra tickets

Someone in LONDON won 3 extra tickets

Someone in ST. NEOTS won 3 extra tickets

Someone in LYTHAM ST. ANNES won 3 extra tickets

Stewart in FERNDALE won 3 extra tickets

David in CREWE won 3 extra tickets

Matt in BURY won 3 extra tickets

Someone in BOLDON COLLIERY won 3 extra tickets

Paul in BEDLINGTON won 3 extra tickets

Scott in CORBY won 3 extra tickets

Damian in SHEFFIELD won 3 extra tickets

Alan in LONDON won 3 extra tickets

Billy in LONDON won 3 extra tickets

Someone in MANCHESTER won 3 extra tickets

Carl in LONDON won 3 extra tickets

Someone in STOCKPORT won 3 extra tickets

Someone in NOTTINGHAM won 3 extra tickets

Someone in GILLINGHAM won 3 extra tickets

Chris in LONDON won 3 extra tickets

Gem in BRISTOL won 3 extra tickets

Anthony in LONDON won 3 extra tickets

Gareth in STOKE-ON-TRENT won 3 extra tickets

Samuel in CANTERBURY won 3 extra tickets

Someone in SHEFFIELD won 3 extra tickets

Theo in WOODFORD GREEN won 3 extra tickets

Lee in LONDON won 3 extra tickets

Ronan in LONDON won 3 extra tickets

Elizabeth in NEWPORT won 3 extra tickets

Elizabeth in NEWPORT won 3 extra tickets

Alan in GREAT YARMOUTH won 3 extra tickets

Jakki in TIVERTON won 3 extra tickets

Someone in GLASGOW won 3 extra tickets

Musa in WANTAGE won 3 extra tickets

Someone in BRACKNELL won 3 extra tickets

Someone in THATCHAM won 3 extra tickets

Someone in LANGBANK won 3 extra tickets

Someone in THATCHAM won 3 extra tickets

Someone in MANCHESTER won 3 extra tickets

Katelyn in LONDON won 3 extra tickets

Tobias in BOURNEMOUTH won 3 extra tickets
About us
As a diverse and friendly LGBTQ+ cycling group, PRiDE OUT's goal is to transform the lives of LGBTQIA+ people through social exercise in a relaxed, inclusive environment and safe space.

With your help, we can life-changing raise funds to travel and train many new ride captiains and host more group cycling rides across the whole UK.
You also get the chance to win up to £25,000. It's a win-win.

Thank you for your support and good luck! Don't forget to play responsibly.

Richard Hearne (he/him)
Chairperson
PRiDE OUT

Web: www.prideout.co.uk
Email: [email protected]
Help us share our cause on social media
How the lottery works
That's right, unlike many other lotteries, our lottery tickets are only £1 per week.
50% to your chosen cause and 10% to other causes in the LGBTQ+ community.
Match all 6 numbers and you win the JACKPOT!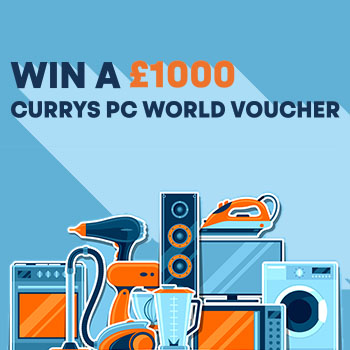 Win a £1,000 Currys eGift Card
Need an upgrade? Get your tickets before 27th August for your chance to win an amazing £1,000 Currys eGift card! From kitchen appliances to TVs, and laptops to iPhones, there's something for everyone!