Someone in St. Albans supported us with 2 tickets

Jeffrey in London supported us with 5 tickets

Jeffrey in London supported us with 5 tickets

Stuart in Bangor supported us with 2 tickets

Someone in St. Albans supported us with 2 tickets

Lee in Hitchin supported us with 2 tickets
---
3d 18h 54m

02 July 2022
---
Stephen in SUDBURY won £25.00

William in EXETER won 3 extra tickets

Michael in LEIGH-ON-SEA won 3 extra tickets

James Sales in MANCHESTER won 3 extra tickets

Eve in ALEXANDRIA won 3 extra tickets

Someone in STOCKPORT won 3 extra tickets

Someone in TELFORD won 3 extra tickets

Ceri in PORTH won 3 extra tickets

Someone in HARTLEPOOL won 3 extra tickets

Someone in BATHGATE won 3 extra tickets

Someone in NEWARK won 3 extra tickets

Someone in SALE won 3 extra tickets

Someone in MANCHESTER won 3 extra tickets

Philippa in LOUGHBOROUGH won 3 extra tickets

Someone in PRINCES RISBOROUGH won 3 extra tickets

Someone in ROTHERHAM won 3 extra tickets

Someone in FAREHAM won 3 extra tickets

Piermario in LONDON won 3 extra tickets

Adie in HOLYWELL won 3 extra tickets

Elspeth in BARRY won 3 extra tickets

Chris in BLACKPOOL won 3 extra tickets

Peter in HAYLE won 3 extra tickets

Maria in PENZANCE won 3 extra tickets

Nicole in CRICCIETH won 3 extra tickets

Peter in MANCHESTER won 3 extra tickets

David in WAKEFIELD won 3 extra tickets

Keith in THAME won 3 extra tickets

Someone in LONDON won 3 extra tickets

Lee in HITCHIN won 3 extra tickets

R Thos. Rainbow in LONDON won 3 extra tickets

Philip in LONDON won 3 extra tickets

ROBERT JEWELL in LLANFAIRFECHAN won 3 extra tickets

Derek in DUNFERMLINE won 3 extra tickets

Liane in LEAMINGTON SPA won 3 extra tickets

Polly in LONDON won 3 extra tickets

Joshua in NORTHAMPTON won 3 extra tickets

Nat in MANCHESTER won 3 extra tickets

Jade Murray in WIRRAL won 3 extra tickets

Denise in WALLINGTON won 3 extra tickets

Someone in LONDON won 3 extra tickets

Someone in LONDON won 3 extra tickets

Someone in BRACKNELL won 3 extra tickets

Someone in NOTTINGHAM won 3 extra tickets

Someone in SALFORD won 3 extra tickets

Someone in THATCHAM won 3 extra tickets

Someone in DINAS POWYS won 3 extra tickets

Vicky in CHORLEY won 3 extra tickets

Sadie in Dunstable won 3 extra tickets

beckie in Felixstowe won 3 extra tickets

Simon in LONDON won 3 extra tickets

Rebecca in ST. IVES won 3 extra tickets

Andrea in BOLTON won 3 extra tickets

Stella in LLANELLI won 3 extra tickets

Jeremy in STOKE-ON-TRENT won 3 extra tickets

David Charles-Cully in BLACKPOOL won 3 extra tickets

William in PENZANCE won 3 extra tickets

Someone in CREWE won 3 extra tickets

Alan in PEACEHAVEN won 3 extra tickets

Catherine in WESTCLIFF-ON-SEA won 3 extra tickets
About us
The Ben Cohen StandUp Foundation is the world's first foundation dedicated to raising awareness of the long-term, damaging effects of bullying by connecting communities and raising funds to support those doing real-world work to eradicate bullying.
Help us share our cause on social media
How the lottery works
That's right, unlike many other lotteries, our lottery tickets are only £1 per week.
50% to your chosen cause and 10% to other causes in the LGBTQ+ community.
Match all 6 numbers and you win the JACKPOT!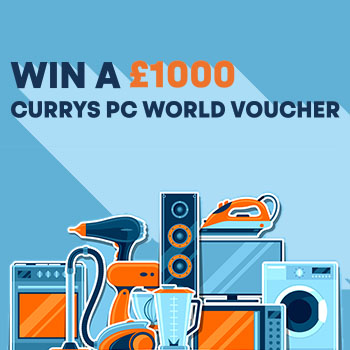 Win a £1,000 Currys eGift Card
Need an upgrade? Get your tickets before 27th August for your chance to win an amazing £1,000 Currys eGift card! From kitchen appliances to TVs, and laptops to iPhones, there's something for everyone!