Someone in London supported us with 3 tickets

Someone in London supported us with 5 tickets

Someone in London supported us with 1 ticket

Someone in Coventry supported us with 2 tickets

Someone in London supported us with 1 ticket

Someone in St. Neots supported us with 2 tickets
---
2d 19h 19m

04 December 2021
---
Andy in LONDON won £250.00

Stephen in SELBY won £25.00

Someone in BRIGHTON won £25.00

Kate in BRIGHTON won £25.00

Someone in BROXBURN won £25.00

Someone in SALISBURY won £25.00

Someone in CHELTENHAM won £25.00

Someone in EXMOUTH won £25.00

Someone in NOTTINGHAM won 3 extra tickets

Amy Adams in READING won 3 extra tickets

Craig in LONDON won 3 extra tickets

Yvette in KIRKCUDBRIGHT won 3 extra tickets

Paul Kay in WIGAN won 3 extra tickets

Ellen in Wells-Next-The-Sea won 3 extra tickets

Someone in SHEFFIELD won 3 extra tickets

Someone in ALTRINCHAM won 3 extra tickets

Someone in NOTTINGHAM won 3 extra tickets

Someone in PLYMOUTH won 3 extra tickets

Someone in EXETER won 3 extra tickets

Someone in LONDON won 3 extra tickets

Someone in EDINBURGH won 3 extra tickets

Someone in EXETER won 3 extra tickets

Someone in READING won 3 extra tickets

Someone in WELLINGBOROUGH won 3 extra tickets

Someone in ILKESTON won 3 extra tickets

Stephanie in LONDON won 3 extra tickets

Addison in WITNEY won 3 extra tickets

Someone in CARLISLE won 3 extra tickets

Someone in LONDON won 3 extra tickets

Someone in LONDON won 3 extra tickets

Someone in LONDON won 3 extra tickets

Someone in LIVERPOOL won 3 extra tickets

Mark in SWINDON won 3 extra tickets

Richard in LONDON won 3 extra tickets

Ian in DUMFRIES won 3 extra tickets

Someone in REDDITCH won 3 extra tickets

Someone in NEWARK won 3 extra tickets

Someone in MILTON KEYNES won 3 extra tickets

Someone in NEATH won 3 extra tickets

Someone in SALFORD won 3 extra tickets

Someone in BRISTOL won 3 extra tickets

Someone in SALISBURY won 3 extra tickets

Someone in LONDON won 3 extra tickets

martin in NEW ROMNEY won 3 extra tickets

Daniel in LONDON won 3 extra tickets

Someone in READING won 3 extra tickets

Someone in WATFORD won 3 extra tickets

Someone in SHREWSBURY won 3 extra tickets

Someone in TRURO won 3 extra tickets

Someone in TRURO won 3 extra tickets

Ian in DERBY won 3 extra tickets

Kathryn in CANNOCK won 3 extra tickets

Malvin in WOLVERHAMPTON won 3 extra tickets

Emma in WATFORD won 3 extra tickets

William in EXETER won 3 extra tickets
About us
The LGMC began life in December 1991, when nine men sang at Angel Underground station to raise money for the Terrence Higgins Trust, at the height of the HIV / AIDS epidemic. It has since evolved into an internationally recognised, high quality, inspirational part of the LGBTQ+ choral family, whose guiding mission is to challenge prejudice and discrimination through the power of song.
As we approach our 30th anniversary, we have set out an ambitious programme for the coming years and seek funding to:
Establish the UK's first 13-19 year old youth chorus for LGBTQ+ people.
Increase our singing capacity and reduce our waiting list.
Increase our music team capacity so that we can undertake more performances.
Work in communities across more areas of London and the UK.
Offer more bursaries, so that more members can perform during times of financial hardship.
Ensure the diversity of our chorus better reflects the society in which we live.
Offer a greater range of music and performance workshops for members.
Form a creative foundation that focuses on a wider range of vocal music – non-English language, barbershop, community choir, ensemble.
Develop a home space that is owned or managed by the chorus.
Your donation can help us to make these ambitions a reality and ensure we continue in our mission of challenging prejudice and discrimination towards LGBTQ+ people.
Help us share our cause on social media
How the lottery works
That's right, unlike many other lotteries, our lottery tickets are only £1 per week.
50% to your chosen cause and 10% to other causes in the LGBTQ+ community.
Match all 6 numbers and you win the JACKPOT!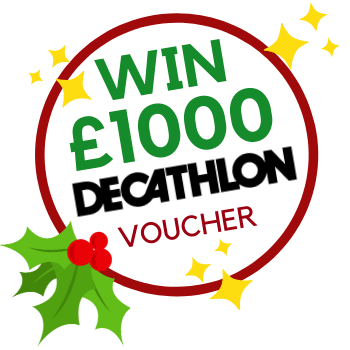 'Tis The Season To Make A Difference Today - PLAY
Choose to make a real difference to the community for £1 a week through the lottery. Your support also gives you chances at weekly cash prizes, PLUS, be in the draw on the 1st of January 2022 for your chance to WIN a £1,000 DECATHLON voucher to spend on 70+ sports, nutrition & body care products!